DomainPatrol Social is the unique solution for a flexible HCL Connections environment, making content moveable and solving complex user issues easily.
Handle content and users with a few clicks

Merge & Move Communities, Wikis, Blogs, Activities

Move Files and Libraries between Users and Communities

Merge Profiles and Manage Access Control

Let your organization grow with DomainPatrol Social
Content
HCL Connections is a very powerful solution in which users create content every day. Not always does that content end up where it was intended to be added. DomainPatrol Social ensures that the users fully takes advantage of the HCL Connections experience since we make all content moveable within the platform.
Users
DomainPatrol Social offers easy user administration in HCL Connections. We handle scenarios when employees changes roles in the organization or leave their position. Access control and orphan content is two areas where DomainPatrol Social is strong.
---
DomainPatrol Social for HCL Connections handles content and people. A solution packed with intelligent and easy to use functions shaping HCL Connections to maximum performance. Perfect for every day use, and extra pwerful during upgrades of HCL Connections.
For example if you have several communities, with similar purpose or content, you can use the function Merge Communities to merge them into one Community. It's also possible to Move Communities in and out of one another. The same applies to all kinds of content including Files, Blogs, Wikis, Libraries and Activities.
New projects starts, others end. The organization is constantly chaning and consequently your needs.
Other situations we can solve is when people change role in the organization, becomes employees or leaves the organization. Orphan content is a common problem and DomainPatrol Social has several tools to solve it. One is Complete User Management for Files, Blogs, Wikis. Another is Copy User Access to transfer all, or some of the access that user A had to user B and/or user C. Problem solved!
Sometimes one user ends up with two profiles in HCL Connections. Perhaps they started off as a consultant or external user and now they are permanent employees. No worries. Use the function Merge Profiles. All content from both profiles are merged into one. Phew! No more unhappy users that can't access their stuff.
---

Move and Merge Communities
After using HCL Connections for a while, you almost always realise that you have many, many communities. Some of them are used every day while other are obsolete and/or forgotten. Many of them cover the same topics and contain redundant information. Meanwhile your users keep creating new ones.
Fear not! With our feature Merge Community you can now merge two communities into one, and of course also move sub-communities into and out of parent communities.
All this with few clicks! Our easy to use interface is a success everywhere. A powerful tool doesn't need to be hard to use. Our customers appreciates it immediately.
For more vital content features, see the examples in the menu to the left.
Move Files
Increase your flexibility while working with files in HCL Connections. Move a single file or the whole file container between users. Or move move them between communities. You can also move libraries. Useful when people move around in the organization.
---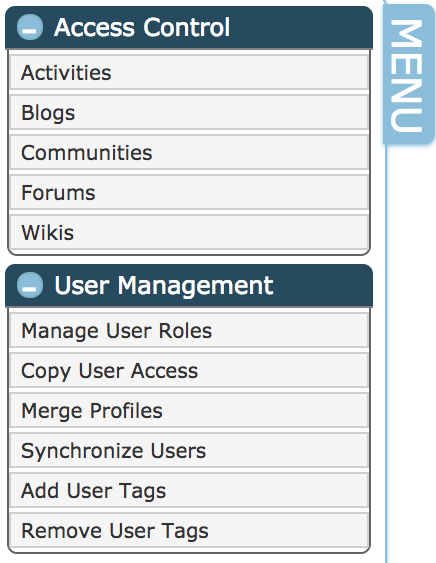 Another essential function is Merge Profiles
We have several customers that have requested an easier way to manage all user profiles in HCL Connections. Many companies are in the situation where they hire temporary staff in order to cover for ordinary employees on leave. If the company then hires these temporary employees they will most likely end up with two profiles in HCL Connections.
It's even possible to merge an internal profile with an external one.
With DomainPatrol Social you can now easily merge these two profiles to one. All data and content will be merged. Inluding the users history.
No organisation stays the same for a longer period. Most organisations are in constant change and movement. Why should then HCL Connections stay still? The employees are the most important part of the organisation. One important thing is to give them access to the right material.
With Access Control you can within minutes give the right person access to the right content! 
---
We have worked with social tools for a very long time. We are developers, administrators, infrastructure consultants and of course also users. We have many long-term customers that we have forged close relationships with. Over the years we've learned how important it is to keep your environment in great shape, to take care of your installed solutions and to maximize the benefits of it.
That's why we develop tools that makes all the neccessary administrative tasks much easier for users, administrators and platform owners and that benefits the whole company.
---
Try DomainPatrol Social! We offer a fast installation and onsite evaluation.
Contact us for details, price or references.
Benefits and Business Value
Business value for your organization
shapes your social business from the start, according to the needs of the organization
the "ONE-Company Vision" requires information flexibility
DomainPatrol Social makes the users trust HCL Connections with their time and their documents
keep your HCL Connections environment tidy and attractive for the users
let your social intranet thrive with your organization
Business value for your platform owner
no other product can do what DomainPatrol Social does
increased service levels
DomainPatrol Social solves impossible user demands in seconds
manage user access and roles in a convenient way
enables life cycle management and content consolidation
ability to hide unused or unwanted content
any Blog, Forum or Community can be moved or merged within seconds
Business Value for your users
users find information better if the structure of the content can be managed subsequently
users content can be reused in other contexts. A project wiki can be merged with a line of business wiki after a project is closed.
users demand that their social intranet evolves together with the organization
users want to find useful information where they expect it
users don't want their valued contributions glued to particular containers
For more information please contact sales